Soft Stream and Rural Chic: the kitchen trends for 2021
Which worktops and accessories are in line with these trends? And how can you combine different materials and furniture? Dekker Zevenhuizen, together with trend forecaster Monique van der Reijden, has thoroughly mapped out the trends and translated them into specific products for your kitchen. Read what will be important in 2021 - and therefore what is not to be missed!
Soft Stream: hard materials that appear 'soft'
In the Soft Stream style, materials are blended in a new, artistic way. By combining round shapes and flowing lines with natural stone in soft sand and pebble tones, the overall experience is soft and comfortable: hard materials that seem soft! Add an accent colour in pastel pink, neo mint or lilac. The organic look of the space goes hand in hand with high-tech performances, such as a sink that disappears under the kitchen worktop. Dare to design out-of-the-box and give your kitchen the new look of 2021!
Soft Stream in the kitchen
In the Soft Stream kitchen, as you can see in the video below, the cooking island has become a type of sculpture: it sits in the space like a luxurious piece of furniture. The hob and sink are completely concealed under the top, allowing you to use the furniture also as a dining table or sideboard, for extra convenience. Here you can see a kitchen worktop by Evora Ceramics in the matte colour Smokey Grey combined with a splashback made of TopLaminaat in the calm wood colour Nordic Wood. Lilac coated glass adds a glossy colour accent. The marble circles of the luxurious Cambria composite stone are translucent. The subtle contrast between matt and gloss, together with the round shapes and high-tech functionalities, turns this special 'boomerang' furniture into a gem for lofts and other spaces!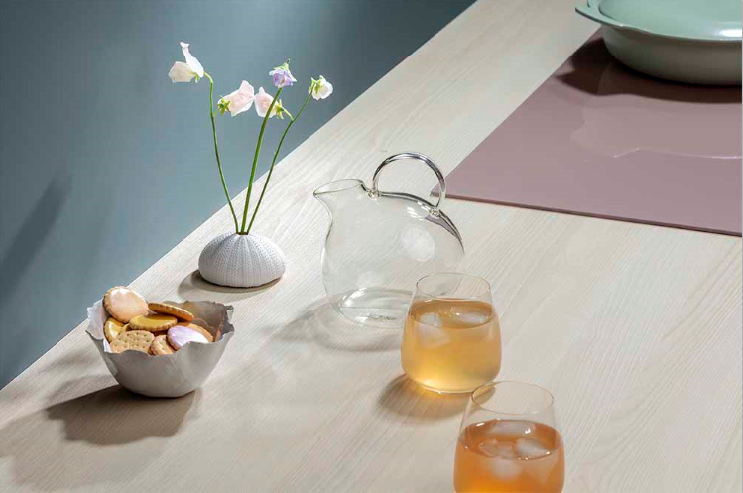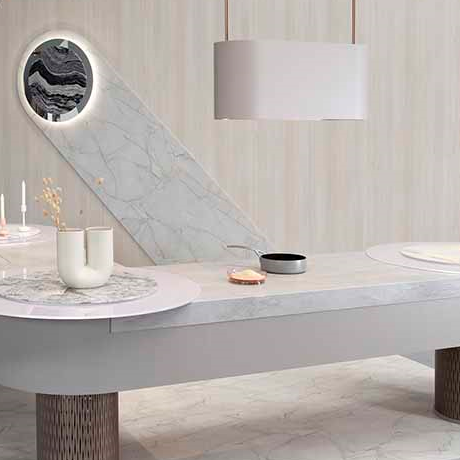 Rural Chic in the kitchen
The Rural Chic kitchen flows seamlessly into the living room. In the trend video below, you can see how you can play with low and high seating and how a 'greenbelt' creates an outdoor terrace in the kitchen. Eye-catching elements include the marble kitchen island in the light green colour Calacatta Green, with a sink unit with Selsiuz boiling water tap and sink in the colour Copper.