Backsplash
The backsplash has made a come-back in the kitchen! It enables you to create a unique atmosphere and makes your kitchen look spacious. Backsplashes can be custom-made, cut exactly to size. Made of the same material as the kitchen worktop, all the way up to the kitchen cabinet, behind the hob only, or as a low upstand? It is all possible.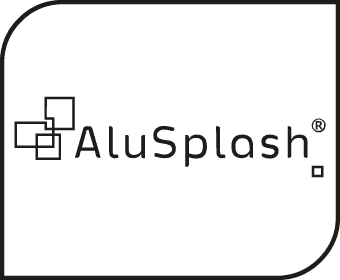 Custom-made backsplash
Almost all kitchen worktop materials can also be used to create a backsplash. You can pick the same colour or a contrasting material, such as a backsplash of glass in combination with a stone worktop or wood laminate in combination with a matt Fenix® worktop. When it comes to materials and colour, the options are endless. Does your ideal backsplash reaches up to the top cabinets or do you prefer a low upstand? In that case, we recommend a larger backsplash behind the hob and a lower upstand behind the tap.
A backsplash can be fully customised, so the options are virtually endless. The most popular height for an upstand is 10 cm, but upstands of 25 cm high are becoming increasingly common in the kitchen. Very handy behind the tap, as they protect your wall from splashing water!
Materials
Almost every backsplash can be made in the same material as the kitchen worktop. This applies to the following materials:
Kitchen worktop materials as splashbacks
TopLaminate®
DecorTop®
TopCore®
Fenix®
Evora Quartz® (engineered stone)
Evora Granite® (granite)
Evora Ceramics® (ceramics)