TopCore
A TopCore® kitchen worktop is waterproof, hygienic and easy to clean. The core of TopCore® is a sheet of 1cm thick compact laminate made of wood fibres and pressed with resin. This makes it highly resistant to impacts and chipping. But the real strength of TopCore® is in the decorative top layer. The textures don't just look, but also feels like wood, textile or stone!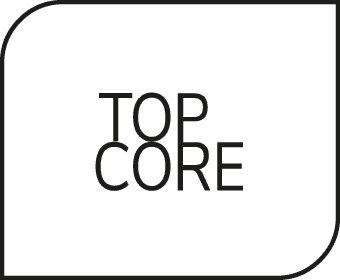 TopCore worktop
Because the material is so sturdy and compact, it is impact resistant. The closed surface makes the sheet waterproof, hygienic and easy to clean. A TopCore® kitchen worktop can be finished with a polished edge of 10 mm as well as with a square edge of up to 100 mm. The square edge is created by using the V-groove technique, which allows the top and the texture to roll over into the edge.
Specifications TopCore®
maximum dimensions: 415 x 125 cm
Thickness: 10 mm
Weight: 25 kg/m2
Undermount, semi-undermount and flush-mounted sink
Easy to maintain
TopCore® is easy to maintain. For everyday cleaning, just wipe down the worktop with clean soapy water and dry it with a cloth. Would you like more practical information about the maintenance of a TopCore kitchen worktop? Please download the maintenance advice.
Properties TopCore
unique colours and surface textures
waterproof due to the closed surface
sturdy and compact, and therefore impact-proof
hygienic and easy to clean
PITT Cooking possible
Colour collection TopCore
Below, you will find all images of the colour collection TopCore®. You can also visit the Dekker Trend Centre in Zevenhuizen (NL). There, all expressive colours are shown in big slabs. The Dekker Trend Centre can be visited by appointment only.