Highlights of the trends Mythical Rerooted and Colour Recharge
Dekker presents the latest kitchen trends of 2023. The most social room of the house is dominated by Mythical Rerooted and Colour Recharge. In both trends there is a focus on nature and well-being. We will see this in abundance in the coming years.
Mythical Rerooted
Respect for nature has been a theme in interior design for years. That need will only continue to flourish in the Mythical Rerooted kitchen trend. In this robust and natural kitchen, the focus is on sustainable and social aspects, with a reference to forgotten traditions and symbols. In this atmospheric open space, technology is not visible, but high-tech is present. Reuse and design are beacons for the future.
The Mythical Rerooted kitchen has a natural feel. This is expressed in materials such as natural stone including granite or quartzite. The veins and patterns can be added to the interior as desired. Rough and grand, or refined and subtle? For an economical alternative, many similar colours of these materials are also reproduced, such as the beautiful TopCore and Evora Ceramics collection. Mixing this with real wood and natural materials in the accessories enhances the natural character of this earthy kitchen.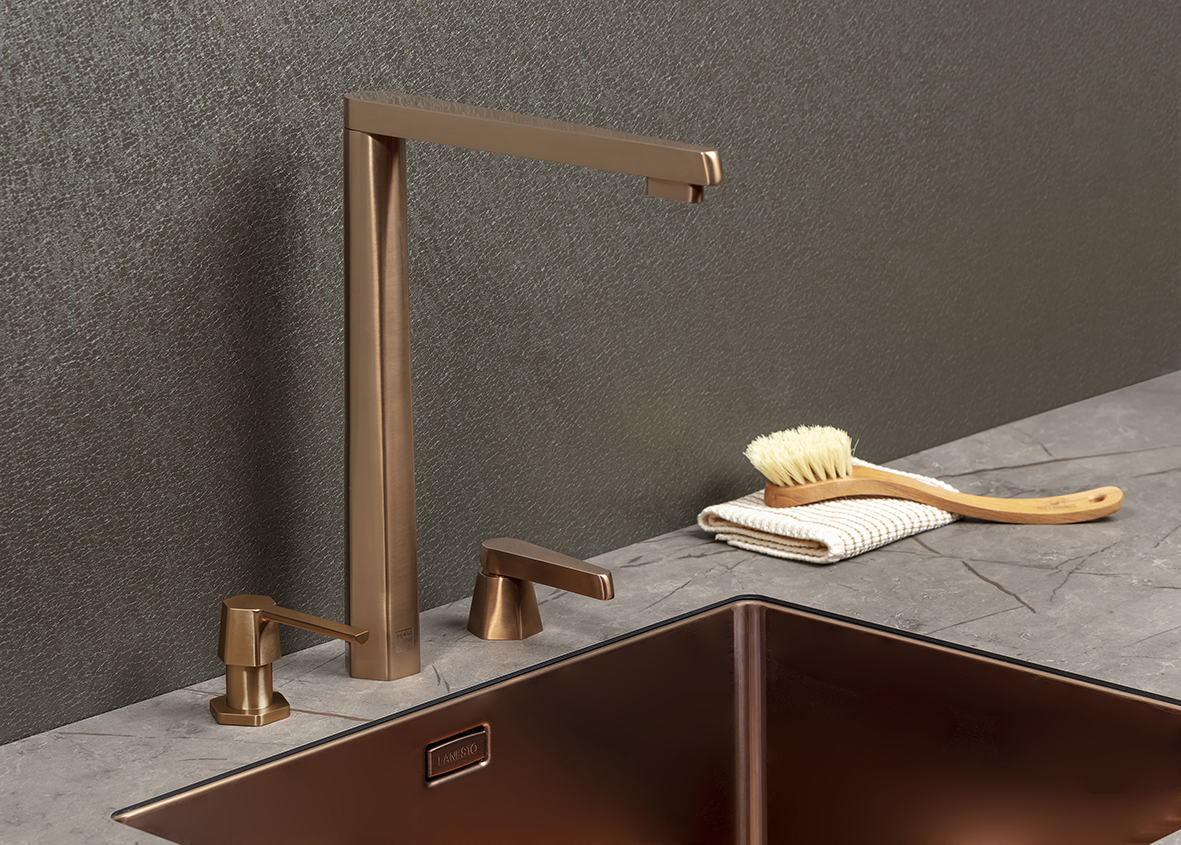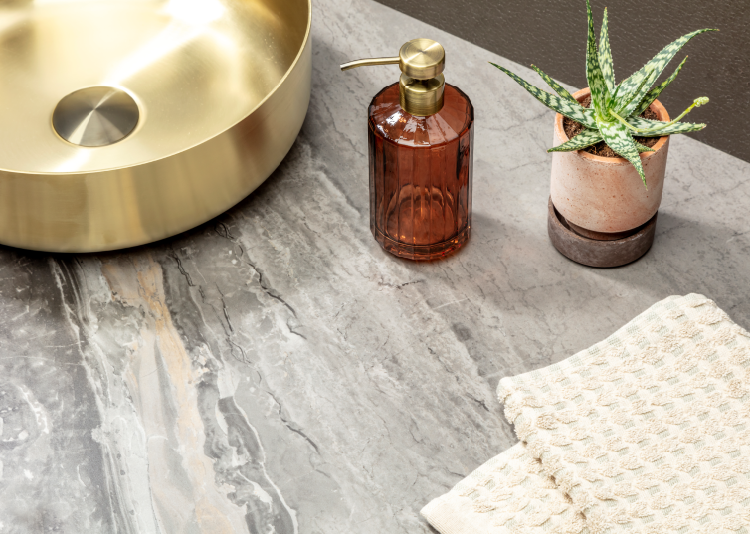 Kitchen worktop TopCore Maya Gold
Washbasin Evora Ceramics Fantasy
Natural shades
Mythical Rerooted stands for a timeless look. We see many refined structures and patterns in combination with natural (sand) tones and rough materials. Monumental shapes and materials with geographical patterns of rivers and mountains on top form an exciting mix. This combination creates perception and tranquillity in the kitchen. The experience can be enhanced by adding high-gloss ceramics and a touch of yellow. The indoor-outdoor feeling will also continue to return in this trend and in the future.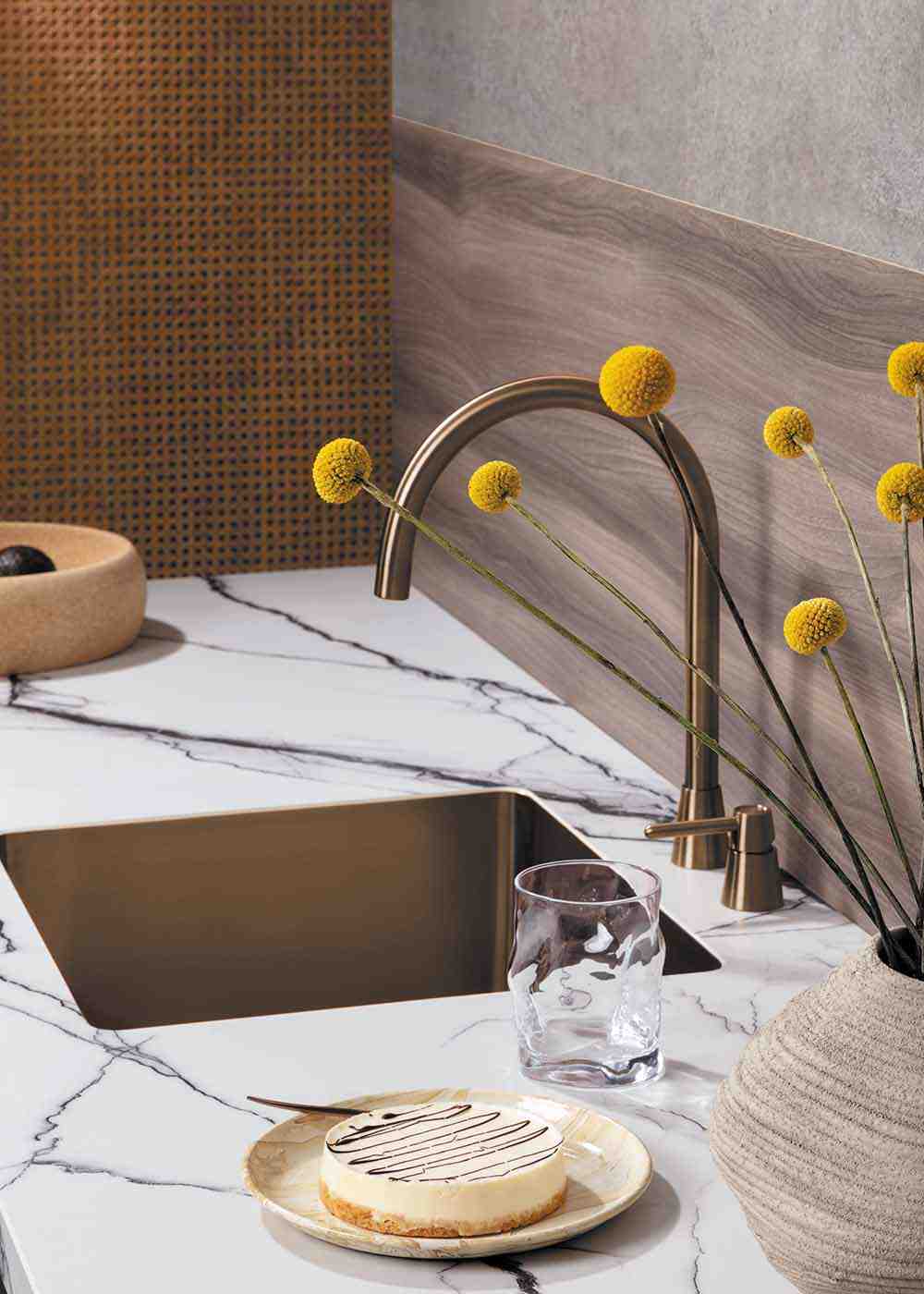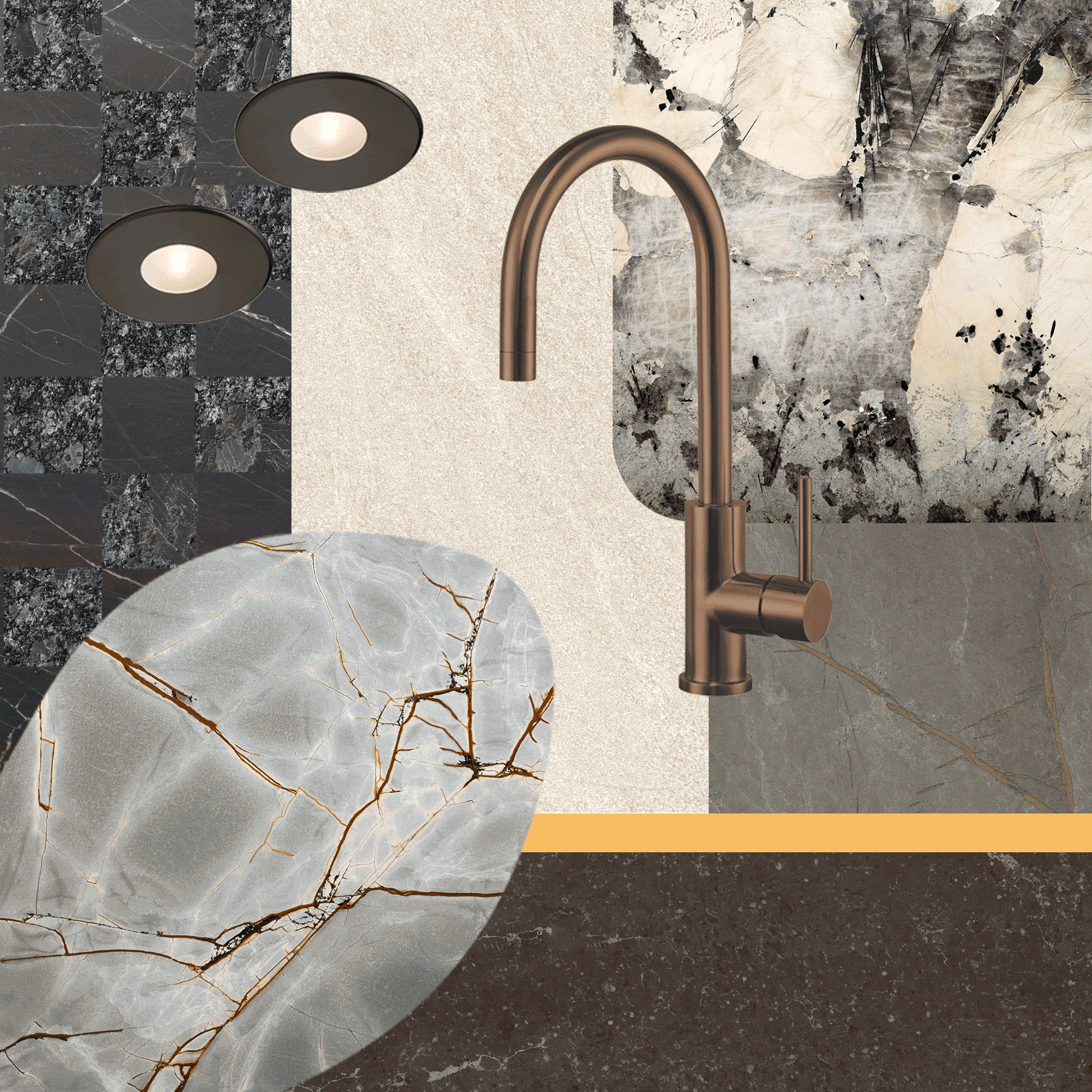 Evora Cermaics Breach
Colour Recharge
Colour Recharge stands for an energetic kitchen. The name says it all: we recharge ourselves through colour! This style is expressive, inclusive, daring and playful. No material, colour or shape is discriminated against in this kitchen trend. How about a round kitchen island? A terrazzo dining table? We see a total mix of textures. Natural accessories soften the overall design.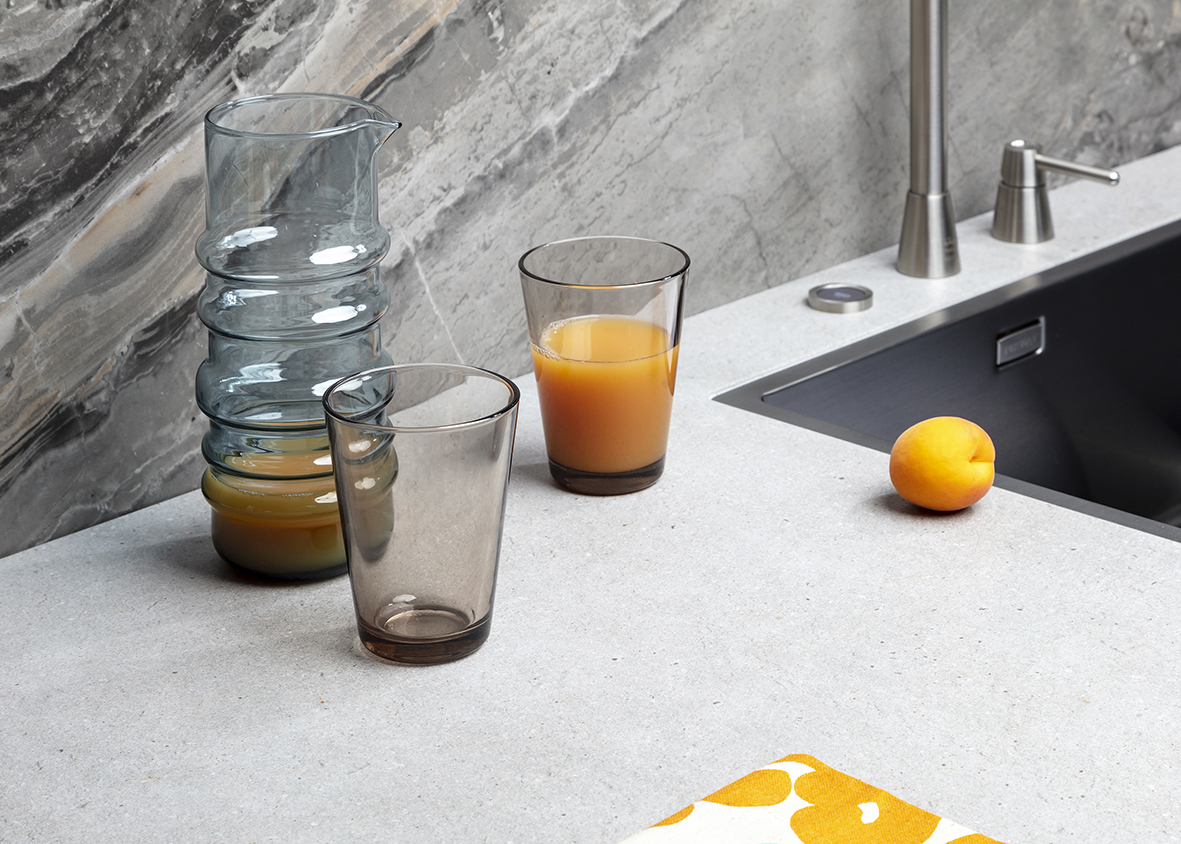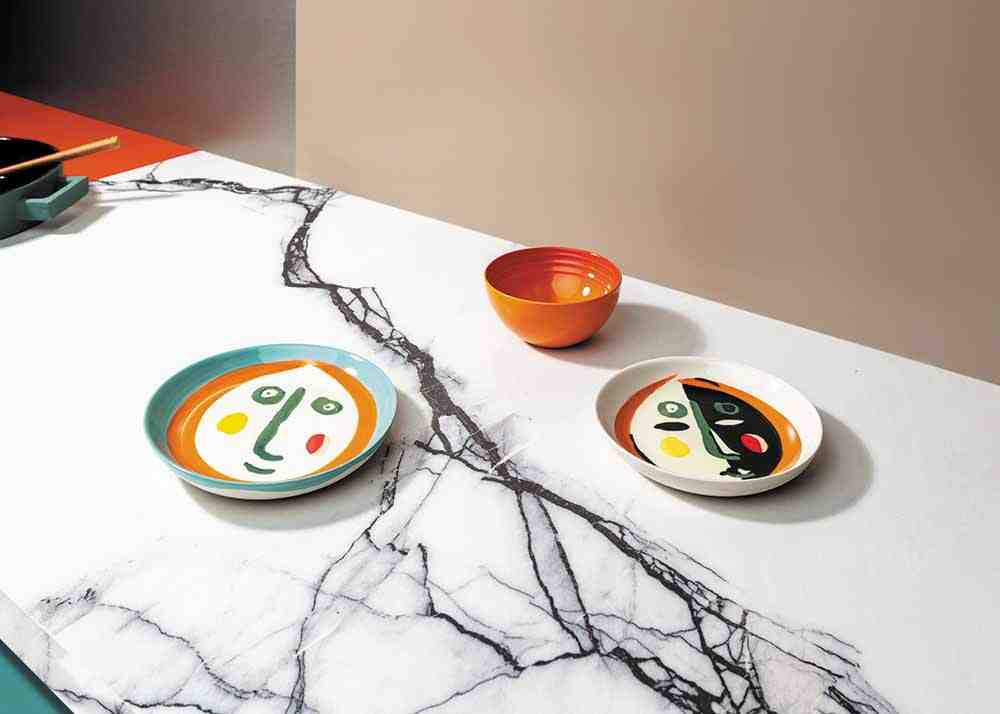 Evora Ceramics Botega
Evora ceramics Breach
In Colour Recharge, we see influences from the pop-art retro style of the 70s. The colours are stimulating and contrasting, like red with green or black with white. The light grey TopLaminate kitchen worktop Sandy Gravel, has a subtle pattern of pebbles. It is precisely for this reason that the beautiful black tap and sink fit in beautifully. Colour Recharge calls for activating colours, especially blue and orange. Add one of these colour accents here and there to boost the atmosphere even more.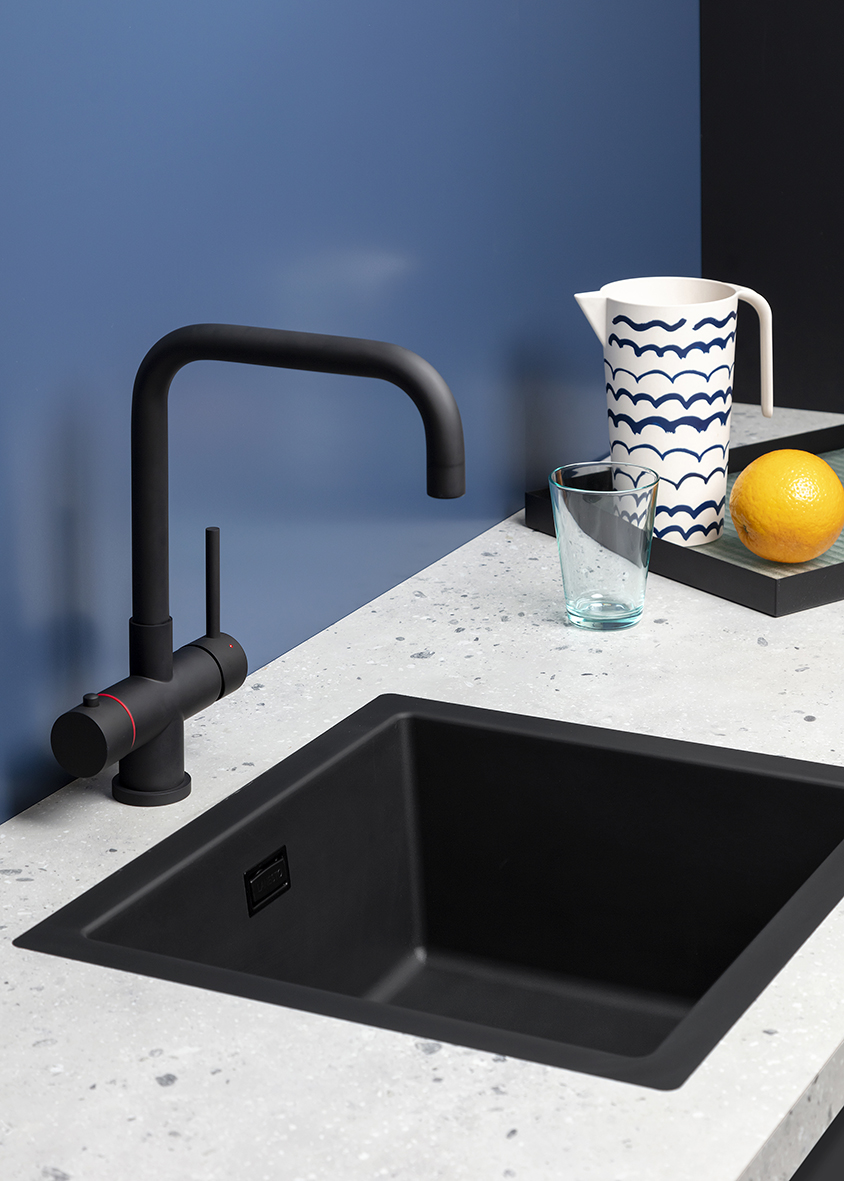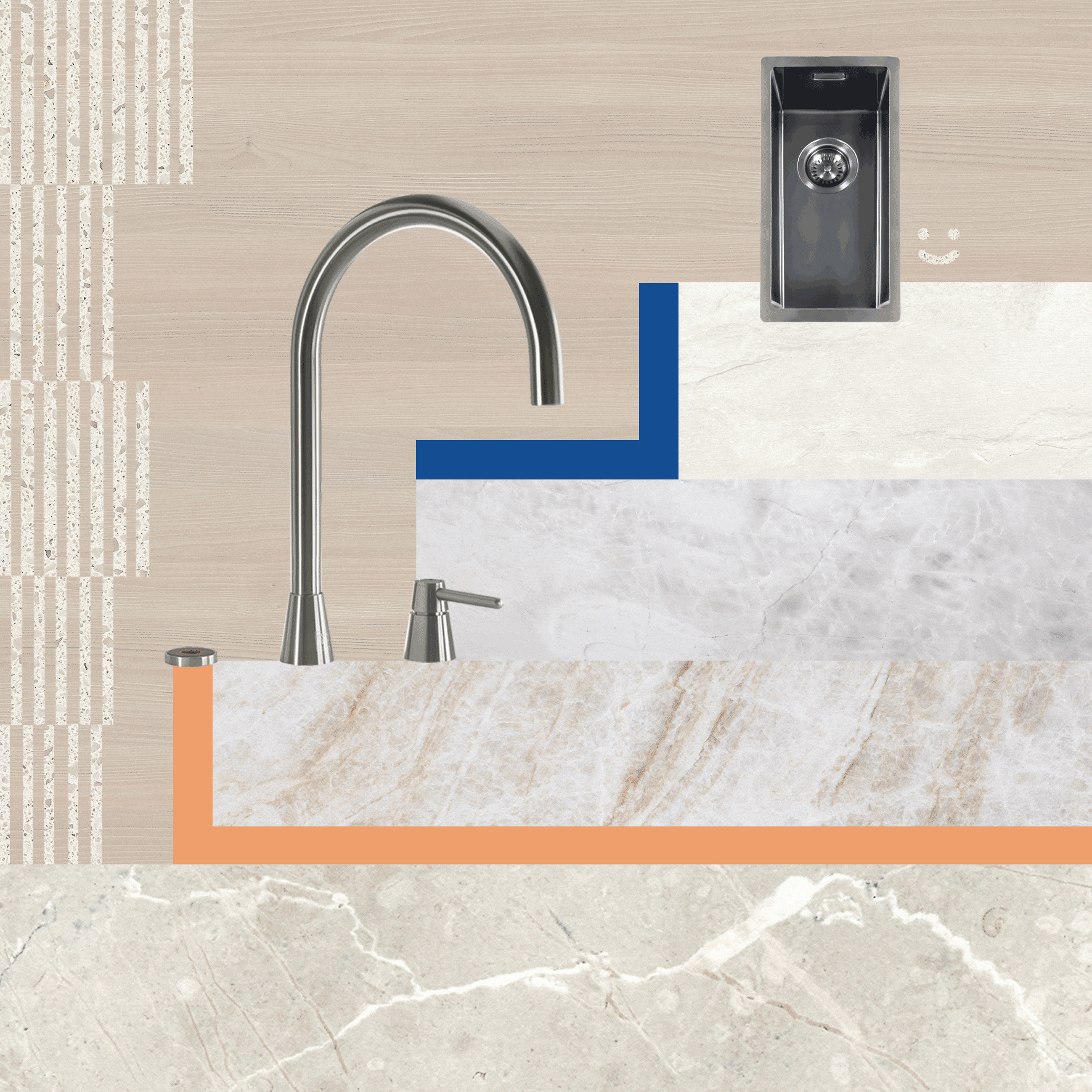 Kitchen worktop TopLaminate Sandy Gravel